 Upcoming Tournaments
<% tournament.name %>
<% tournament.name %>
PARTICIPATION/JOUEUR
<% tournament.entryString %>
TAILLE DE L'ÉQUIPE
<% tournament.teamSize %>
KD CAP
<% tournament.kd_cap %>
NIVEAU DE COMPÉTENCES
Tous
<% eloLevelsConfig[level].name %>
<% tournament.name %>
<% tournament.name %>
PARTICIPATION/JOUEUR
<% tournament.entryString %>
TAILLE DE L'ÉQUIPE
<% tournament.teamSize %>
KD CAP
<% tournament.kd_cap %>
NIVEAU DE COMPÉTENCES
Tous
<% eloLevelsConfig[level].name %>
Fortnite tournament at CMG
How do Fortnite Tournaments Work?
In a Fortnite: Battle Royale tournament on CMG we will set you up against other players to compete against, once set up you'll go into a regular Battle Royale match and the person or team of persons that have gotten the most kills will get the win in the match! Checkmate Gaming holds the throne as the best Fortnite tournament website by many in the online tournament community. Compete against friends and strangers from across the globe and take home the cash when you win a Fortnite tournament for money. While we do not host epic games Fortnite tournaments like you have seen on TV or Twitch a Fortnite Battle Royale Online Tournament is played slightly differently. To participate in a Fortnite eSports tournament on Checkmate Gaming, you must register and create an account on CMG then find the tournament you are looking for once you have seen our Fortnite tournament list from here you'll be able to find one of the many tournaments that might suit your personal play style. Now that you know the tournament you join be sure to check your profile to ensure you have all your appropriate Gamertags added. If you are playing on Xbox, you'll need your XBL ID to be linked. If you are playing on PlayStation 4, you'll need your PSN linked. If you are planning on playing on PC or participating in any Cross-Platform play, you'll want to have your EPIC ID linked. Having the correct information linked to your profile ensures other players can invite you and play out the matches they get against the right players. So be sure to ensure it is right when you link it. If it is incorrect, you will risk forfeiture in your match due to our administrator's inability to accurately identify proof in your game. Upon joining you'll be able to participate in what notably regarded as the most premier Fortnite competitive tournament hosting platform right here on Checkmate Gaming!
Fortnite tournament bracket play
Each Fortnite tournament bracket is broken up into rounds, byes, and seeds. The round's position defines how far along you are advanced in the bracket, and every tournament will start at Round-1 this is where you face your first opponent. If you do not have an opponent or have skipped round-1, you may have received a "bye" upon tournament generation. Generation of a tournament occurs when the start time of tournament has been reached and has our system successfully places all players with their beginning matches. Fortnite tournament bracket play is very similar to what you'll find in more traditional sports games, Players & teams will advance through the bracket from round-1 into semi-finals, and then face off in finals with the best team from the other half of the bracket. This final match will decide the winner and that winner will receive a real cash prize based upon the number of teams that joined the tournament!
Competitive Fortnite Gaming Platforms
Our Fortnite tournament for real cash prizes exist across multiple platforms; you can play a Fortnite PS4 tournament, a Fortnite Xbox tournament, a Fortnite PC tournament or even a cross-platform Fortnite tournament!
Most popular tournament formats
We offer 1v1, 2v2, and 4v4 tournaments to suit most player's style. So you can be a lone wolf or a team player to earn large cash prizes! Our current lineup of Fortnite tournaments is quite simple to understand a Fortnite 1v1 tournament is where two players are matched up and go into a Duos public lobby. A Fortnite 2v2 tournament is where two teams of two players each get matched up to both enter into a Squads match in order to play to see who can get the most kills for their respective team of 2. Newly added to the website we have the 4v4 Fortnite tournament. The 4v4 Fortnite tournament is to be played with two teams of 4 each swapping one man our to play a squads match. What this means is that two 3v1 matches are to be played and each team's kills will be tallied up across these two matches to determine the winner.
Fortnite live tournaments on Twitch
By going on Twitch.tv, you'll be able to see a multitude of live fortnite tournaments and even stream your tournament matches. A quick way to see other users playing in CMG tournament would be to type in CMG in the search box of most streaming services you'll notice off the bat quite a few people live streaming their tournaments. It's an excellent way to connect with the streamer community and a unique way to learn how to conduct yourself in our online tournaments for Fortnite and If you do stream be sure to put CMG in your title. You should put CMG in your title so that other fans of the site and our team of support administrators can check you out and help hype up your stream!
Fortnite Tournament Rules
Fortnite tournament rules are very quite simple. As we've already talked about above, our tournament matches are played in public lobbies. Opponents in our tournaments play side by side so to speak, and the team that gets the most kills or completes the objective described in the rules of the individual competition will win. So if you are in a 1v1 tournament match; you and your opponent will go into a Duos public lobby and play. While playing, you are not allowed to sabotage each other's play in an unsportsmanlike manner. The players will play out their tournament match, and the player or team of players with the most kills will win the match. If you win, you should be sure to use ingame DVR or a game capture device to capture video proof of your win to ensure there is no doubt that you are in-fact the winner! So, in essence, the Fortnite tournament points we would be counting in most cases would be the kills you and your team have, and the Fortnite tournament winners would be the most skilled killers. We choose this as our competitive metric in most tournaments because it's believed and shown to be a very good test of skill. We have other variations of Fortnite tournaments that some players enjoy. These variations have their own rules that can slightly differ from one another. For instance, we have Survival Deathmatch where the goal is to stay alive the longest rather than get the most kills. We also have Sabotaged tournaments where players are encouraged to wreak havoc on their opponents without fear of being disqualified for unsportsmanlike conduct, and we also have Drop Zone tournaments where the website randomly specifies a point on the map for you and your opponent to both land. A Drop Zone tournament might be enjoyed by players who always want to land at tilted towers, or want to compete in a head to head style with their opponents rather than playing two separate parts of the map.
Fortnite Tournament Prizes
Now you may have heard of Fortnite million dollar prize tournaments, and that is certainly a spectacle. But for most of us skilled gamers, it's a long shot to be one of the few to grace those world stages. Well, the good news is here, On Checkmate Gaming you'll be able to compete 24 hours a day at your leisure without any barrier to entry besides a small fee to enter a tournament. We regularly have tournaments for $1,000 and have had $10,000 Fortnite tournaments in the past. Armed with seasoned gaming skills you'll be able to take people down in our tournaments from the comfort of your own home. To many, an online tournament can also be a launch platform for a higher career in eSports or even in streaming, because what better way to get notoriety than for thousands of other skilled players always seeing your name progress through the tournament bracket? Your daily grind for the win in our Fortnite tournaments will be able to net you substantial cash prizes that are paid out quickly to you.
Free fortnite tournaments
If you aren't sure about committing to buying a few credits to play in a Fortnite tournament on Checkmate Gaming, have no fear! We at CMG offer Free Tournaments that pay out cash prizes every day. You'll be able to try your hand at playing for money without any cost to you. All you have to do is follow the steps to register your account and sign up for the tournament! It really is that easy. If you'd like any advice or assistance in doing this at the bottom right-hand corner of our website, you'll find our live support agents ready to answer any question you might have about our tournaments. Thank you for your interest in reading this and good luck on your eSports journey!
How to join a Fortnite tournament?
Step 1: Register Account
If you do not already have an account be sure to make one!

Step 2: Purchase CMG Credits
Most Fortnite tournaments require CMG credits to enter, be sure to visit the shop and purchase the correct amount of credits required to enter the Fortnite tournaments of your choice!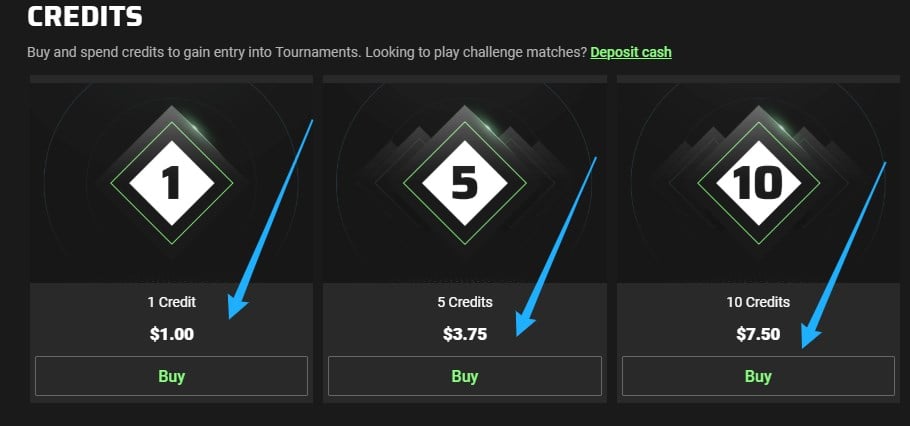 Step 3: Find A Fortnite Tournament
On the homepage or under the "Tournaments" section you'll be able to sort by console(PS4, XBOX ONE, PC) and game to identify what Fortnite tournaments you want to participate in. Click "view tournament" to see more information regarding the Fortnite: Battle Royale tournament you wish to join. You will want to know the time the tournament starts, how much it costs to enter , the game mode, and how big your team must be to play.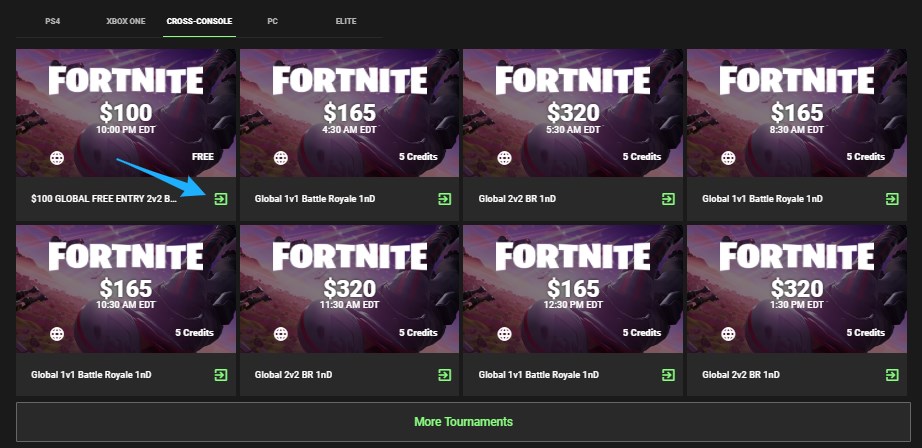 Step 4: You have found a tournament!
If you've found an online tournament be sure to identify from its info panel everything you'll need to know to play the Fortnite tournament. Once you've done that simply click "Join" on the Fortnite tournament to begin the joining process.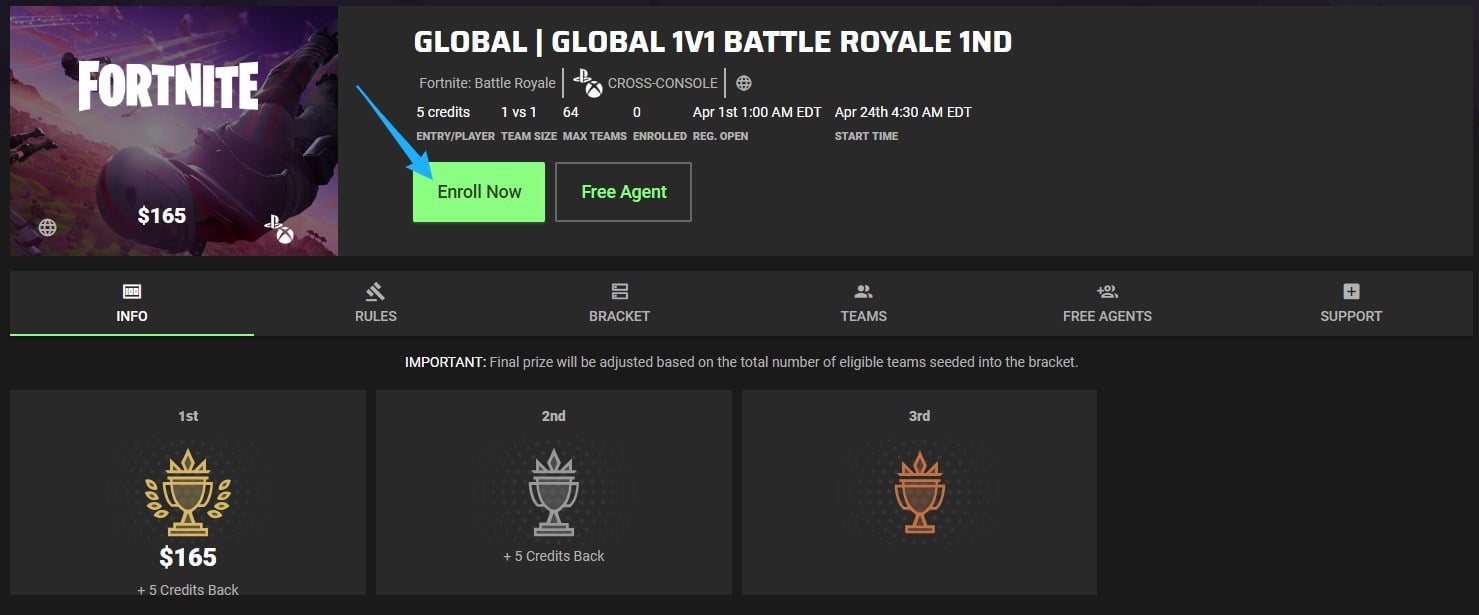 You'll want to create your team and edit it's roster if you need to invite other players to your team follow the steps below: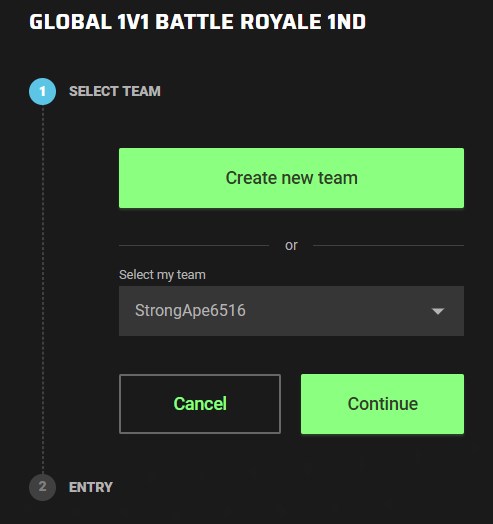 Selecting "Roster", you may invite members on the bottom right by their CMG username.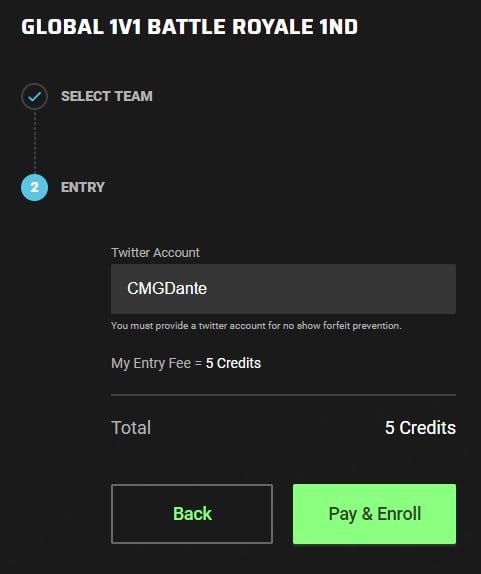 Be sure to use the correct username! Make sure to confirm that your teammates have the correct gamertags, or identification, for the game you are playing- linked to their CMG account. This will be previewed to you when selecting your roster and can be found on the member's CMG profile.
With your roster selected and team created, you may now join the Fortnite tournaments. To ensure you have joined the esport tournament, look for your team's name on the "TEAMS" tab, found on the tournament page itself.
Step 5: Joined!
You've successfully joined the Fortnite tournament and have understood the rules that apply to it. Now you are waiting for the brackets to generate. This is the process that matches you with an opponent. The start time on the Fortnite tournament will indicate when this should process will occur.
At the time the brackets have generated, your team will be highlighted in gold on the Fortnite tournament's bracket. There you will see your first match in round 1. As you can see in the example here my highlighted team received 1st seed indicated by the blue arrow and got a "bye" meaning the tournament did not have enough teams to complete a full bracket. So my team has been advanced and is waiting for the Round 1 match to be played between "CogentCoati7734" and "LovelyPheasant5252" once they have played their game and are advanced into the round where I am waiting. I will play the winner.

Step 6: The Match!
Your Fortnite match for the tournament will be generated once it begins, click on it to show who you are up paired against and follow the instructions in the rules to get your match going! You can find your match under "My Matches" on the left hand side menu!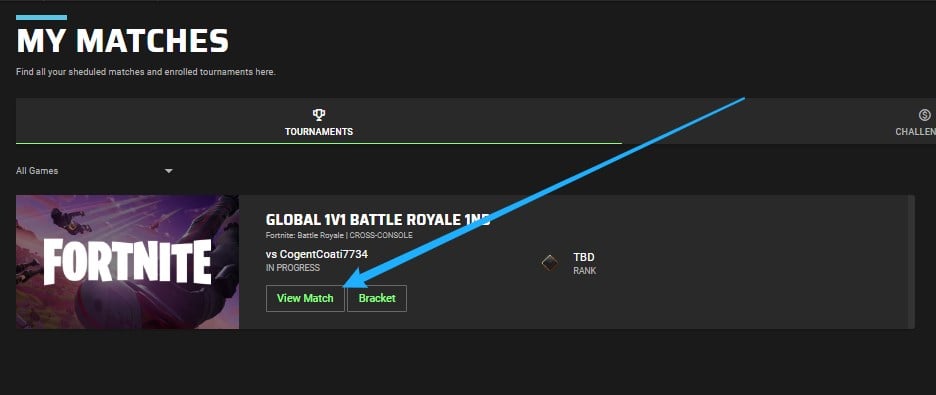 Step 7: Play!
Be sure to read the rules applicable to the game mode you are playing, when you're all ready to begin playing your match give it your best shot and show your opponent who they are dealing with!

Step 8: Report The Match
Once your match has been played we please ask that you report the results of your Fortnite match, whether you win or lose it's important that the match is reported in a fast and accurate manner

Step 9: Obtain your advance
Please be sure to capture video proof of your win in your match so that once you have reported you match and a few minutes have gone by. We then suggest you head into live support and show our administrators your video proof of the win. They will them move you on in the bracket, move all the way into finals to win the Fortnite tournament!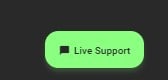 Step 10: Win!
In defeating your final opponent in the final match here you'll get the win for the entire Fortnite tournament, this will award you with a cash prize as well as all the trophies applicable, if you win 1st place you'll get a gold trophy, if you win 2nd, you'll get a silver trophy, if you get 3rd place you'll win a bronze trophy in some tournaments as noted on the prize tab of the Fortnite tournament teams from 1st place all the way to 32nd place are eligible to get their credits back and more, so be sure to read the prize information about the tournament you are in!